Have dinner in an old Venetian shipyard overlooking the harbor. Neorio Moro (neorio=shipyard), the home of Chania Sailing Club, is a 400 year old Venetian shipyard with a spacious, airy, ancient vibe. A very imposing building at a key geographical spot with a harbor view.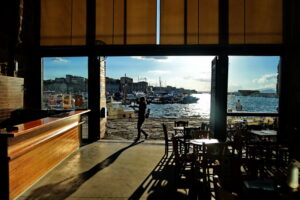 The conference dinner will take place at Neorio Moro (est. 1607), at the eastern side of the Venetian Port of Chania, on Thursday, June 6th, at 8:30pm.
At 8:00pm, buses will depart from the entrance of Minoa Palace Resort & Spa to Neorio Moro and at 11.30pm buses will depart from Neorio Moro to Platanias. Please don't forget to bring the Conference Dinner ticket with you.
Dinner tickets are available for 50 euros per person and include transportation and a buffet dinner with drinks.
If you would like to reserve a place, please complete the form (.doc , .pdf) by April 5th. By signing this form you commit to paying in cash upon registration at the meeting. Accompanying persons wishing to join the conference dinner are kindly asked to follow the same instructions.